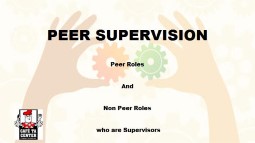 The CAFE TA Center is pleased to present its newest online training, Peer Supervision.
As peer support services continue to grow in use and popularity, peer specialists find themselves working within all manner of settings. It can be a challenge for peers to stay true to their values and the principles of recovery as they work in teams and systems that have management structures that include both peers and non-peers. For peer support to be effective, and result in positive outcomes for those being served, those individuals responsible for supervising and managing peer support specialists must be informed and prepared.
How can peers manage other peers? What should non-peers keep in mind when managing peer specialists? CAFE TAC's latest training, Peer Supervision, offers answers to these questions and more. This extensive training provides information for both peers managing other peers, as well as non-peer professionals and clinicians tasked with supervising peer specialists. Through a series of modules, it provides foundational information on peer support and its growth out of the consumer/survivor/ex-patient movement, training for non-peers supervising peers support workers, information for peers supervising other peers, advice on group supervision, and a series of scenarios to help illustrate how various concepts work in practice. The online training is organized in such a way that you can skip to the sections that are most relevant to you.
CAFE TAC is very pleased to be able to offer this new resource to anyone who is supervising peer professionals, as well as to peers working in different settings, and anyone invested in integrating peer support and the insights of people with lived experience into their organization.  Check it out today!
This training is presented as a pre-recorded slide show, and is also available as a text-only web page with a transcription of the audio.