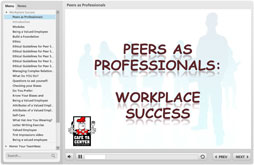 The CAFE TA Center is pleased to present its newest online training,  Peers as Professionals: Workplace Success. There are many challenges for people with lived experience when it comes to engaging with the behavioral health workforce. Peer professionals want to remain true to the principles of recovery, help those they work with build on their strengths and drive their own care, and be treated as valued, competent team members by their colleagues.
CAFE TAC's latest training, Peers as Professionals: Workplace Success, offers advice for peers in every role, including paid peer support specialists, peer volunteers, committee or council members and supervisors. The training is conveniently organized into modules, so viewers can select the portions that are most relevant to their role. It coves a wide range of topics, including ethics, being a valued employee, working effectively in a team, understanding and explaining your role, staying true to peer support values, effective advocacy and communicating with supervisors. Check it out today!
This training is presented as a pre-recorded slide show, and is also available as a text-only web page with a transcription of the audio.