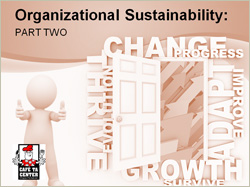 The CAFÉ TA Center is committed to fostering sustainability among consumer-led organizations throughout the country, so they can thrive and provide a strong advocacy voice on behalf of their members. To support that commitment, we have created a two-part training on organizational sustainability. Organizational Sustainability, Part Two is a compliment to Part One, and provides detailed guidance on developing a functional sustainability plan for your organization. The training features a targeted focus on four key areas; Accountability, Financial Security, Organizational Management, and Relationships. Strength in these areas provides the underpinning for an infrastructure that is sustainable and has the capacity to support the organizational mission. The training features an Organizational Sustainability Screening and a template for Organizational Longevity Planning and guidance on how to use them with your organization. In addition, participants can download the Nonprofit Development and Sustainability Resource Sheet to assist them in locating additional sustainability technical assistance.
Document Downloads:
You can view this training by following the link below.
Organizational Sustainability, Part 2
After you have completed the training, please share your thoughts on it by taking a very brief survey by following this link: Post-Training Survey.

---
Ask A Question