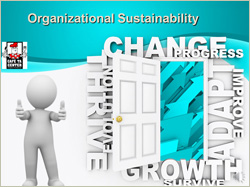 The CAFÉ TA Center is committed to fostering sustainability among consumer-led organizations throughout the country, so they can thrive and provide a strong advocacy voice on behalf of their members. To support that commitment, we have created a two part training on organizational sustainability. Organizational Sustainability, Part 1 is an overview of current trends in the nonprofit arena and the impact these could have on consumer run organizations. The presentation also builds a base of understanding for organizational leaders and partners that will enable them to effectively begin a sustainability process to build the capacity and longevity of their organization.
If you are a consumer or professional involved in running a nonprofit organization, we encourage you to check out Organizational Sustainability, Part 1 today! As with all of our trainings, Organizational Sustainability, Part 1 has been created as a narrated online slideshow. That means you can pause or rewind, and view the training in whole or part whenever it is convenient for you, 24/7.
To view Organizational Sustainability, Part 1 follow this link!